Since its foundation in 1892 in Canelli, the Coppo winery has remained in the family for over 120 years, making it one of the oldest family-run wineries in all of Italy.
Their historical underground cellars, a UNESCO World Heritage site, were built at the beginning of the late 18th-century and extend under the hill of Canelli over five thousand square meters at a depth of up to forty meters.
Coppo's wines are characterized by elegance, finesse, and longevity. Their production centers on Barbera, Metodo Classico sparkling wines, Chardonnay and Moscato d'Asti. In the early 1980s, the Coppo brothers were among the first in the territory to demonstrate the elegance, character, and ageing potential of the Barbera grape.
Barbera remains their specialty today, in particular, the Barbera d'Asti DOCG Pomorosso label. Other labels of note are  Moscato d'Asti "Canelli," a new subzone prized for its excellent Moscato, and  Monteriolo, a great Chardonnay with elegant minerality and savoury notes of the sea— a wine capable of ageing over twenty years.
Coppo's goal is to guarantee maximum respect for the grape varieties and the environment in all stages of their production.
Barbera d'Asti Docg Pomorosso
Winery visits and wine tastings
Winery Tour
Coppo transports their guests through time. The underground tunnels, which are known as Cathedrals and are recognized as a UNESCO World Heritage Site, showcase the long history of winemaking in the area. Historic farming and winemaking tools are displayed at the entrance and important vintages are displayed in small dugouts. All tastings are led in private tasting rooms.
Languages spoken
Italian and English
Territory
Monferrato
Wines Range
Barbera d'Asti, Chardonnay, Metodo Classico sparkling wines, Moscato d'Asti
Activities
Guided winery tour, Guided wine tastings, Guided vertical tastings
Services
Wine shop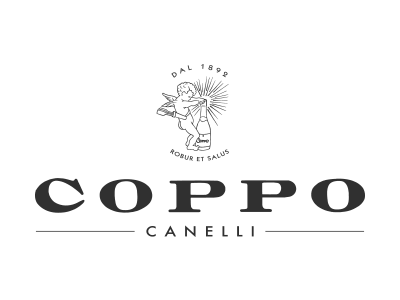 Via Alba, 68
14053 Canelli (AT)