The Santarelli family, wine traders for more than a century, restored Piazza Capranica's historic "Wine & Oil Store" in a contemporary style without sacrificing the ambience of the original 1930s store.
Collegio is inspired by the "Vini & Oli" of the 1930s. A multi-purpose food and wine shop, the family's restoration preserved the original 1930's heritage of the building. The late Renaissance structure was accurately remodelled and reinforced by imposing 18th-century arches.
The interior design equally relives the 1930s ambiance. Iron shelving, typical of the 30s, displays bottles while the corner bar was refurbished with a counter of reclaimed woos and red Verona marble. The tabletops are made from oak and soft leather seating complete the overall vintage feel of the restaurant.
Restaurant
Chef Patrick Dianetti offers a menu inspired by the culinary traditions of Rome and Amatrice, using top quality ingredients sourced from small artisanal producers. Amatriciana, Carbonara, Gricia and Cacio e Pepe are all must-try pasta dishes. Pastry Chef, Caterina Tassi adds a formidable selection of desserts to the menu, which features tiramisu, crème brûlée and cheesecake to name but a few.
Cocktail bar
Mixologist Valerio Rizzo creates his signature cocktails ranging from the great Italian classics such as Negroni or Americano to traditional recipes with a twist. Our cocktail bar is stocked with a selection premium quality spirits sourced from around the world.
Private Events
Collegio's prime location in the centre of Rome, between the bustling Via del Corso and the historic Pantheon, makes it the perfect venue for private events. Each of the two rooms can accommodate up to 45 diners in a refined and welcoming ambience.
Collegio is a member of Rome's prestigious "Association of Historic Shops of Excellence".
Opening hours
For Aperitifs, Light Meals and Dinner
Tuesday to Sunday
12:00 am – 15:30 pm
17:00 pm – 01:00 am
Monday closed all day
Wine Tours
Casale del Giglio wine experience
Wine Range
Syrah, Petit Verdot, Sauvignon, Viognier, Petit Manseng
Services
Private events, cocktail lounge, lunch and dinner services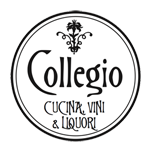 Piazza Capranica, 99/100
00186 Roma